Strategy
As the European category leader - Readly has adopted an ambitious growth strategy.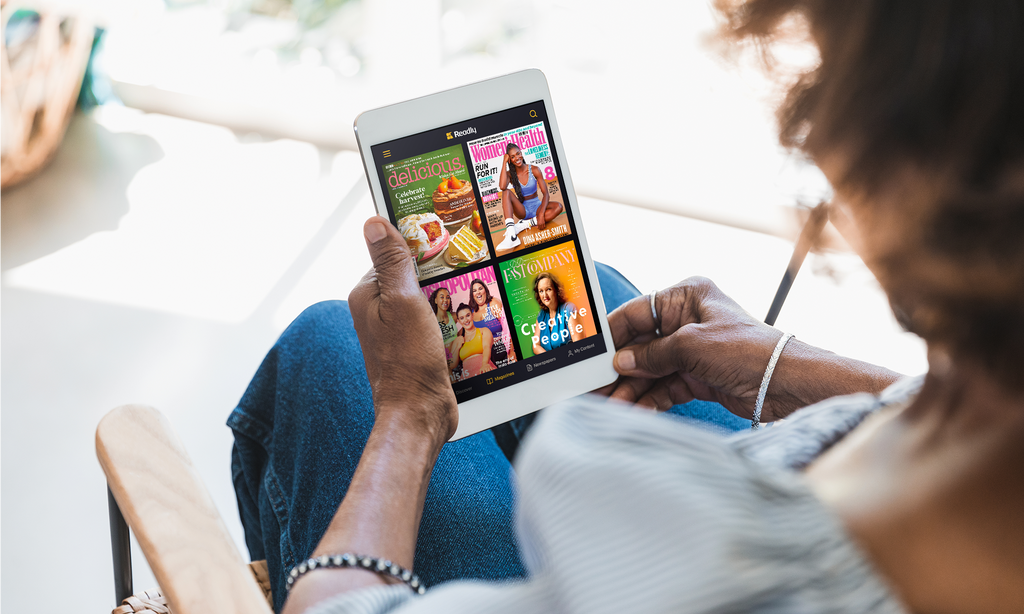 Based on its scalable business model and product, a position as the European category leader*, its attractive proposition for its publisher, partners and subscribers and its strong user engagement and revenue retention metrics, Readly has adopted an ambitious growth strategy to enable it to benefit from the favourable conditions of the market in which it operates. Readly's strategic growth plan is based on the five items below:
Category excellence
Product development and innovation
Geographic presence
Partnerships
Brand and marketing
Category excellence
To offer the best product experience, Readly strives to ensure leading content. Through continuous evaluation of the offering, we identify areas for improvement and work proactively to ensure that we can offer readers popular, high-quality and reliable content. An important focus area during the year has therefore been Readly's investment in exclusive content, "Readly Exclusives". With access to over 40 billion data points on reading engagement and preferences, Readly has developed an effective method for producing high-quality custom content.
Product development and innovation
Readly invests in product development and innovation with the aim of improving the reader experience, increase reader engagement and create organic growth. In 2021 a large focus area has been to improve navigation in the app so that users easier and faster can discover relevant content. Two other focus areas have been to make Readly more accessible by experimenting and exploring how the service can become even more mobile friendly, and how the service and content can be adapted for both long reads and shorter, more light-hearted content. One example of this is breaking out content in magazines and newspapers into shorter article formats presented in what are know as "feeds".
Geographic presence
Growth in each market is determined and managed by monitoring the relationship between Readly's lifetime value and acquisition cost per subscriber and allocating marketing investment to those markets that show the best return on investment. Readly is focused on further penetrating and growing the four main markets of Germany, France, the UK and Sweden, and scaling up other markets that show attractive RoI. At the end of 2021, Toutabo SA, one of the leading digital subscription services for magazines and newspapers in France, was acquired. Through the acquisition, Readly established a leading position in Europe's largest magazine market, including newspapers, which is estimated to be worth around USD 7.2 billion this year. The goal remains to expand organically or through acquisitions to 1–3 new countries per year. Readly is currently available to subscribers in 50 countries with content from local publishers in twelve countries. With leading positions in the largest European markets for magazines and newspapers, Readly is well positioned for continued growth and expansion.
Partnerships
Commercial partnerships are an important focus area to drive cost-effective growth and to increase brand awareness in existing and new markets. In 2021, Readly launched over 140 partnerships in sectors such as telecoms, energy, grocery, transport and travel. To leverage Readly's broad and robust geographic presence, a strategic shift towards larger global integration partnerships was initiated during the year with the aim of driving cost-effective and stable growth. Readly is also exploring new partnership areas such as B2B (business to business) and launched Readly Guest during the year with the aim of introducing our service and creating added value for partners. Readly Guest is a concept that allows customers visiting, for example, cafés, hairdressers, hotels or transport hubs to access Readly for free for 24 hours.
Brand and marketing
Readly is investing in marketing and brandbuilding activities to increase awareness and to drive organic growth. The majority of marketing investment is allocated to conversions on digital channels such as Google and Facebook, as well as affiliate and influencer marketing. In the past years rising of digital marketing has increased substantially and in the last year Readly therefore adapted its marketing strategy in all growth channels. This means that we have reduced investments in marketing and that we prioritise investments in the markets where we see the most attractive development of life time value in relation to the acquisition cost per subscriber.
*Among identified "all-you-can-read" competitors in Europe, Readly is defined as the European category leader in the category "all-you-can-read" on the basis of: highest number of magazine titles, relationships with most major publishers in core markets, highest average monthly website visits between October and December 2019 (worldwide) and highest iOS-store rating.