Sustainability
Readly aims to have a positive impact on society through digitising the magazine industry.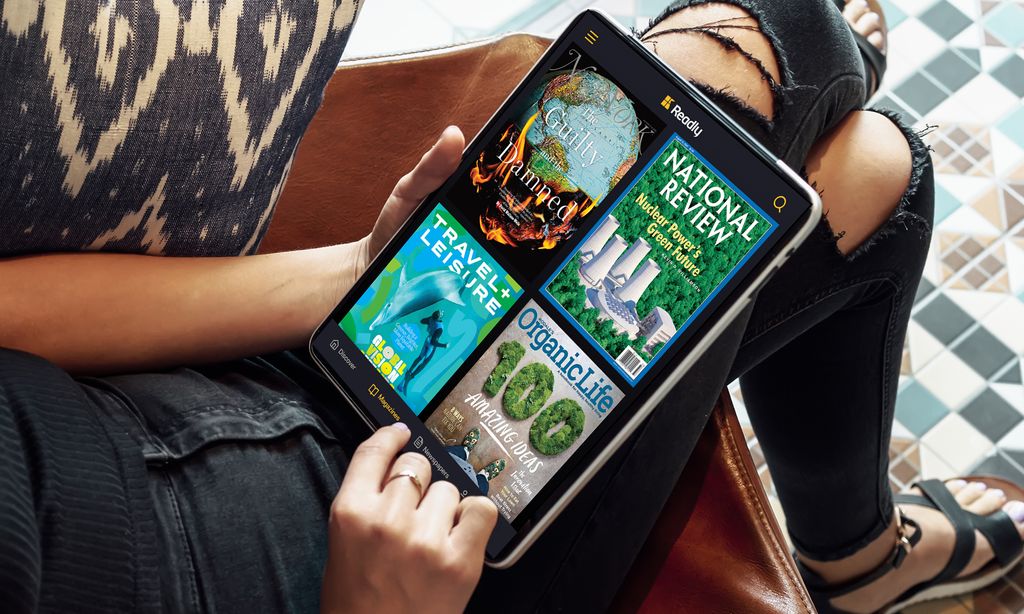 Through the digitalisation of the magazine and newspaper industry we strive to contribute to thriving societies and a healthy planet. Read more about our sustainability work in our 2021 Sustainability Report here.
During 2020, subscribers, publishers, employees, the Board of Directors, investors, equity analysts and others were given an opportunity to share their perceptions of Ready from a sustainability perspective. This formed the basis of Readly's materiality analysis. 14 prioritised aspects have been compiled and three aspects have been singled out as having particularly material importance and where Readly can have the greatest potential to make a difference.

1. Provide responsible content and counter the spread of fake news

Readly provides an offering in which there is a editor-in-chief behind all content on the platform who is responsible for the respective publications' operations, content and policies. Content on Readly must also be in compliance with the respective countries' laws and regulations, be relevant for our subscribers, and meet our ethical guidelines.
During the Covid-19 pandemic a new, rapidly spreading wave of false information emerged, which is so prevalent that a new term for it has even been coined – "disinfodemic". The search for information on the pandemic from reliable sources has helped raise trust in established news outlets. We are therefore glad to have expanded our portfolio at Readly to include content from a number of well-established journalism institutions, such as The Guardian, The Observer, Metro, the Evening Standard, The Daily Mirror, Aftonbladet and Der STANDARD kompakt.
It is important for Readly that the content we provide through third-party publishers is relevant to our audience and in line with our ethical guidelines as laid out in our Code of Conduct and our Supplier Code of Conduct. Our content team vets all magazines manually before they are included in our platform.
2. Empower people to be educated, engaged and entertained
There are countless examples of how journalistic content can be a force for good. It empowers consumers to understand the complex world we live in, to gain knowledge, to find inspiration and get engaged, to learn new skills and explore new interests, or quite simply to enjoy an entertaining moment at the end of the day. At Readly we can bring that positive force to people, connecting our subscribers with all the quality content we offer on our platform – magazines and newspapers from the respected and well-known publishers that we partner with.
Through digitalisation we help our readers gain perspectives from both national and international sources the minute the latest issue is released, in addition to giving them access to a vast catalogue of back issues.
Last but not least, many people read magazines quite simply as a form of entertainment – to unwind from daily routines, relax, enjoy "me-time" and for a bit of escapism. Categories such as crosswords, DIY, celebrity & entertainment, and food & drink are all examples of popular content. Entertainment as such can therefore have a positive impact on well-being and be a source of happiness. This was clearly seen in 2020 during periods of lockdown in several countries where reading titles in several of these categories spiked. It can certainly be suggested that reading magazines has helped many people deal with periods of isolation during the pandemic.


3. Contribute to climate-friendly magazine reading
Through digitalisation Readly's goal is to increase the consumption of journalistic content with the lowest possible climate impact. Our subscribers are clearly environmentally conscious. Our yearly surveys show that the choice of buying a Readly subscription is based partly on a desire to reduce one's environmental impact. Customers in all our markets have ranked the fact that Readly is a climate-friendly way of consuming magazines as one of the most important sustainability aspects.
Thanks to Readly subscribers from 50 markets and 1200 digital publishers worldwide, 150 million magazine issues were read digitally on our platform during 2022. As digital reading has lower climate impact than the printed equivalents, a total of approximately 16,600 tonnes of greenhouse gas emissions have potentially been avoided. This is equivalent to the emissions of producing and recycling over 270,000 mobile phones. Please read our climate study here.


Our policies
The Readly Code of Conduct incorporates the Ten Principles of the United Nations Global Compact, our values "the Readly Mindset" and what we at Readly generally consider to be proper and responsible behavior.